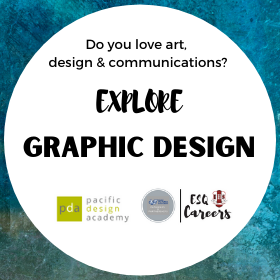 Apply to our Summer Graphic Design Program!
What will I learn?
This program will provide students with a foundation of:
Graphic design knowledge
Connection to a number of local companies leading in their field,
Opportunity to advance their soft skills, life experience and passion for the industry
Who is involved?
SD61, ESQ Careers Team & Pacific Design Academy are partnering together to offer an amazing  8-week program
Students across the district are invited to apply – applications are due in April
When & Where does this program take place?
The program runs in July and August (exact dates TBD), Monday – Friday, 8:30am – 3:30pm with the following schedule:
July: INSTRUCTION @ Pacific Design Academy
August: WORK EXPERIENCE with local graphic design companies
Earn Graduation Credits! how many will I receive?
Upon completion of the program, students will acquire 8 high school credits and an invaluable connection with a local graphic design company through a 4-week work experience placement.
4 credits – Skills Development & Software Training @ Pacific Design Academy
4 credits – Work Experience with local company's
Interested in applying?  Have Questions? 
Fill out the form below or
Connect with ESQ Careers Team: Mr. Henderson or Tarra and
Keep checking our website for upcoming information