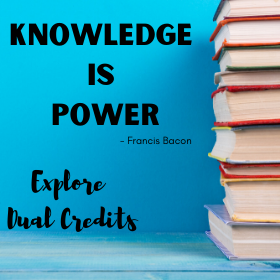 WHY BECOME A DUAL CREDIT STUDENT?
Start post secondary while still in high school & have your tuition sponsored
Dual credit courses & programs let you earn high school and college credit at the same time
Most courses are transferable to other colleges and universities
Avoids the five course crunch in your first year. Five can be a lot!
Build your confidence going into future options
HOW DO I EARN A DUAL CREDIT?
Complete a Course or a Program!   – Depending on your area of interest, instruction is either online or face to face.
WHICH AREAS CAN I EXPLORE?
Dual Credits available in:
WHERE DO I ATTEND TO COMPLETE THE DUAL CREDIT COURSE OR PROGRAM?
To find out what programs and courses are considered Dual Credit,  Connect with our ESQ Careers Team Mr. Henderson. khenderson@sd61.bc.ca or Tarra tclarke@sd61.bc.ca
Here what others have to say! …